PODCAST: The Lifecycle of an Estate Plan
May 11, 2023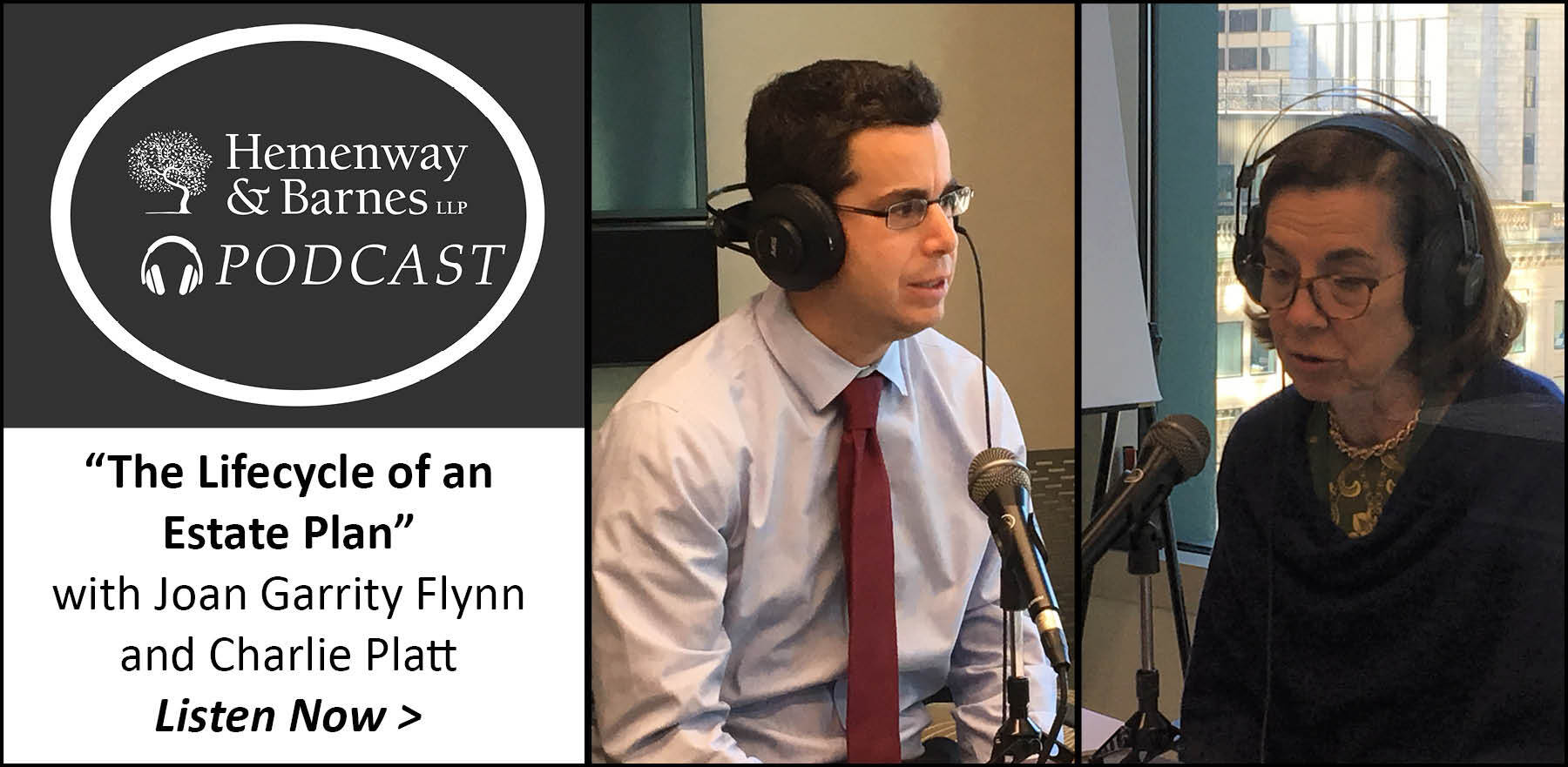 In this episode of the Hemenway & Barnes podcast series, Charlie Platt and Joan Garrity Flynn discuss the various stages of estate planning and how the factors that drive decisions in this regard change over time. Estate planning is fluid and should be revisited and revised over time.
People often execute their first set of estate planning documents upon marriage or the birth or adoption of child. Guardianship of minor children is usually the primary driver and tax planning is generally less of a focus. As you accumulate more wealth, you may need more sophisticated tax planning and retirement strategies. When you grow older, you may need to reassess your estate plans and wealth transfer strategies, including charitable planning, family business succession planning, and end of life planning.
The decisions you make are shaped by your family and financial situation at the time and that is why you should revisit the documents every 5-7 years.
Triggers that warrant a review/update of estate plans include:
Major changes to personal and financial situation
Marriage/divorce/changes in relationship status
Addition of children/loss of family members
Tax law changes
Change of domicile
Inheritances or other infusions of/reductions in wealth
If you enjoy this podcast, please subscribe and share it with a colleague or a friend.
Joan Garrity Flynn
Joan Garrity Flynn has practiced probate law for over 30 years. She joined Hemenway & Barnes in 2008, focusing her practice in the areas of estate and charitable planning; estate, trust and guardianship administration; and probate court equity matters.
Charles R. Platt
Charlie Platt is a partner and the chair of the Private Client Group. He works with individuals and families on their personal planning and wealth management needs, including estate and charitable planning, probate and trust administration, and serving as a trustee.
Related Services
Estate & Tax Planning
Our comprehensive approach is flexible, so it's tailored to each client's unique financial situation, family, goals, values, and more.
Wealth Management
We help individuals and families enhance and protect their wealth by building enduring relationships rooted in high-quality, practical, and distinctly personal service.
Philanthropic Advisory
We offer a full range of philanthropic advisory and grant-making services to private foundations, trusts, individuals, families, and other entities.