'You can't disconnect the person and their passions from how they contribute to the world': A conversation with Gioia Perugini
April 06, 2023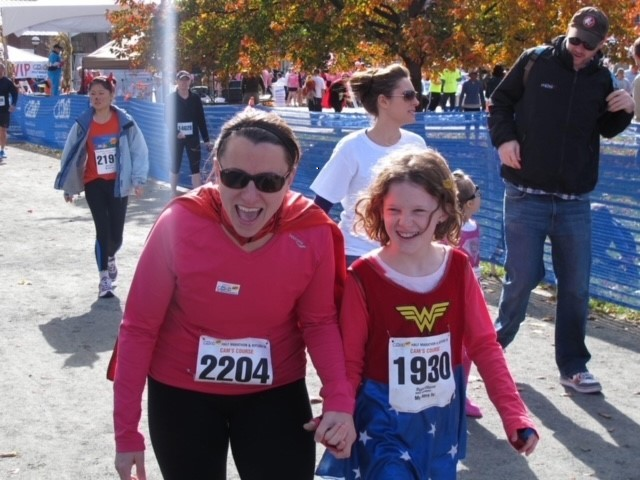 Gioia Perugini, Director of Philanthropic Services at Hemenway & Barnes, and VP of the Positive Tracks Board of Directors, spoke with Rose Hinojosa, Communications Manager at Positive Tracks, to share the origin story of the organization and how we can all play a role in Sweating For Good.
ROSE — Gioia! It is so lovely to get to speak with you today! There are so many things we want to dig into with you, you've got stories for days — weeks, months, years even! You've been involved with Positive Tracks for over a decade. Let's start there.
GIOIA — I've been involved with Positive Tracks since its earliest days (2009), at the dawn of the idea of Sweating For Good, when a group of young people came together to run a one mile race in the pouring rain in support of a young friend being treated at the hospital for cancer.
ROSE — Wow. So, you were there BEFORE the beginning. Cue Star Wars "A long long time ago" gif. I've heard about a 'cocktail napkin' catalyst. I need to hear this story!
GIOIA — After that first epic experience with Sweating For Good, future Positive Tracks founder Nini Meyer knew she had stumbled (ran? sprinted?) onto an idea that could impact thousands of young people and activate them through physical activity for the causes they care about.
At the time I was working with Nini in her capacity as a Trustee of a family foundation I helped to advise. She came to me and said "Gioia, I think I have something here. There was magic at that starting line, and I want to try to find a way to help other young people get active and give back to their communities." I could see that her passion for combining philanthropy and athletics in support of young people was real. I said to her "OK Nini, I think there's a way we can do this and build this thing…I'm all in!" We had a napkin on the table in the conference room where we were meeting and literally sketched out the idea for Positive Tracks right then and there. We took the best of what we both knew about giving and about supporting young people — our kids were really little back then, but we saw in them, even at that time, the emerging trends of Gen Z'ers to want to get active, dive right in, and work on causes that meant something to them in very tangible ways.

Gioia Perugini directs the firm's philanthropic advisory practice and works with individuals, families, advisors, charitable trusts, and foundations to provide a range of philanthropic and family office services. Her clients rely on her to design and implement charitable giving strategies, research particular charities, negotiate gifts of cash or tangible assets, and coordinate family meetings. Gioia's practice also specializes in engaging multiple generations in family philanthropy.
Positive Tracks equips ages 12-25 with the skills, knowledge, and resources needed to change the world through the power of physical activity. "We are built by young people, for young people, to help everyday people take action and unify in times of crisis, when hope, connection and resources particularly matter." Hemenway & Barnes is proud to provide legal and governance advice in support of Positive Tracks' mission.
Jane's Trust: A Lasting Legacy
Jane's Trust, was created through the beneficence of Jane Bancroft Cook, who died in 2002. Mrs. Cook was known in the communities where she lived as a down-to-earth woman who was generous to the core. The Trust continued in that spirit of generosity from its founding in 2003 until its last grants in 2021. Over nearly two decades, Jane's Trust awarded 1,215 grants totaling nearly $180 million to nonprofit organizations in greater Boston, northern New England, and Florida focused in the areas of arts and culture, education, the environment, and health and welfare. The culminating report provides an overview of the evolution of Jane's Trust and highlights a handful of the many incredible nonprofit partners that are working to strengthen diverse communities.