Jack Satter Foundation
Overview
The Jack Satter Foundation is a private foundation established by Jack Satter during his lifetime. Mr. Satter died in 2014, and today the Jack Satter Foundation continues his commitment to helping the elderly, particularly Jewish seniors, young people with physical and developmental disabilities, and veterans. The Foundation also supports individuals and families facing cancer and Alzheimer's disease.
The Jack Satter Foundation makes single and multi-year grants for programs in the broad areas of Health Care, Mental Health, Education, and Disability Inclusion. The Foundation does not accept unsolicited grant requests, letters of inquiry, or proposals at this time.
Geography
The Jack Satter Foundation funds high-impact organizations that primarily serve communities in Massachusetts and in Palm Beach, Florida.
Size of Grants
The Foundation's grants range in size from $25,000 to $1 million, depending on the program's size, duration, and/or complexity. The Foundation does not allocate specific dollar amounts to its areas of interest or to particular geographical areas.
Types of Funding
The Foundation primarily makes program grants, but will consider endowment, research, and general operating support requests opportunities on a case-by-case basis.
Eligibility
The Jack Satter Foundation looks for organizations that:
Align their programs with their mission, goals, and financial resources
Have a stable governance structure
Emphasize accountability, results, service quality and program excellence
Are sustainable and have a strong financial foundation
Funding is not available for:
Political organizations or campaigns
Events
Unrestricted endowments
Individuals
Application Process
The Jack Satter Foundation accepts applications by invitation-only. Trustees will conduct independent research on nonprofit organizations working in their fields of interest and invite select organizations to submit a request for funding. Though the Foundation knows many excellent organizations and worthwhile programs, they are able to consider only a small number of grant awards each year.
Organizations receiving an invitation from the Jack Satter Foundation will be instructed to submit a brief letter of intent (LOI). Trustees will review the LOI and decide if they would like to invite a full proposal.
Trustees of the Jack Satter Foundation may schedule a site visit with potential grantees to get to know the organization, the leadership and, where appropriate, to learn more about possible funding needs.
Grant Cycle
In 2019, the Trustees adopted the following grant cycle schedule: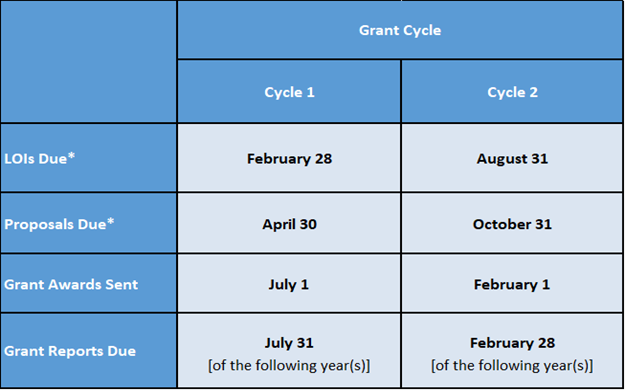 *If the deadline for LOIs or Proposals fall on a weekend or holiday, they can be submitted the following Monday.