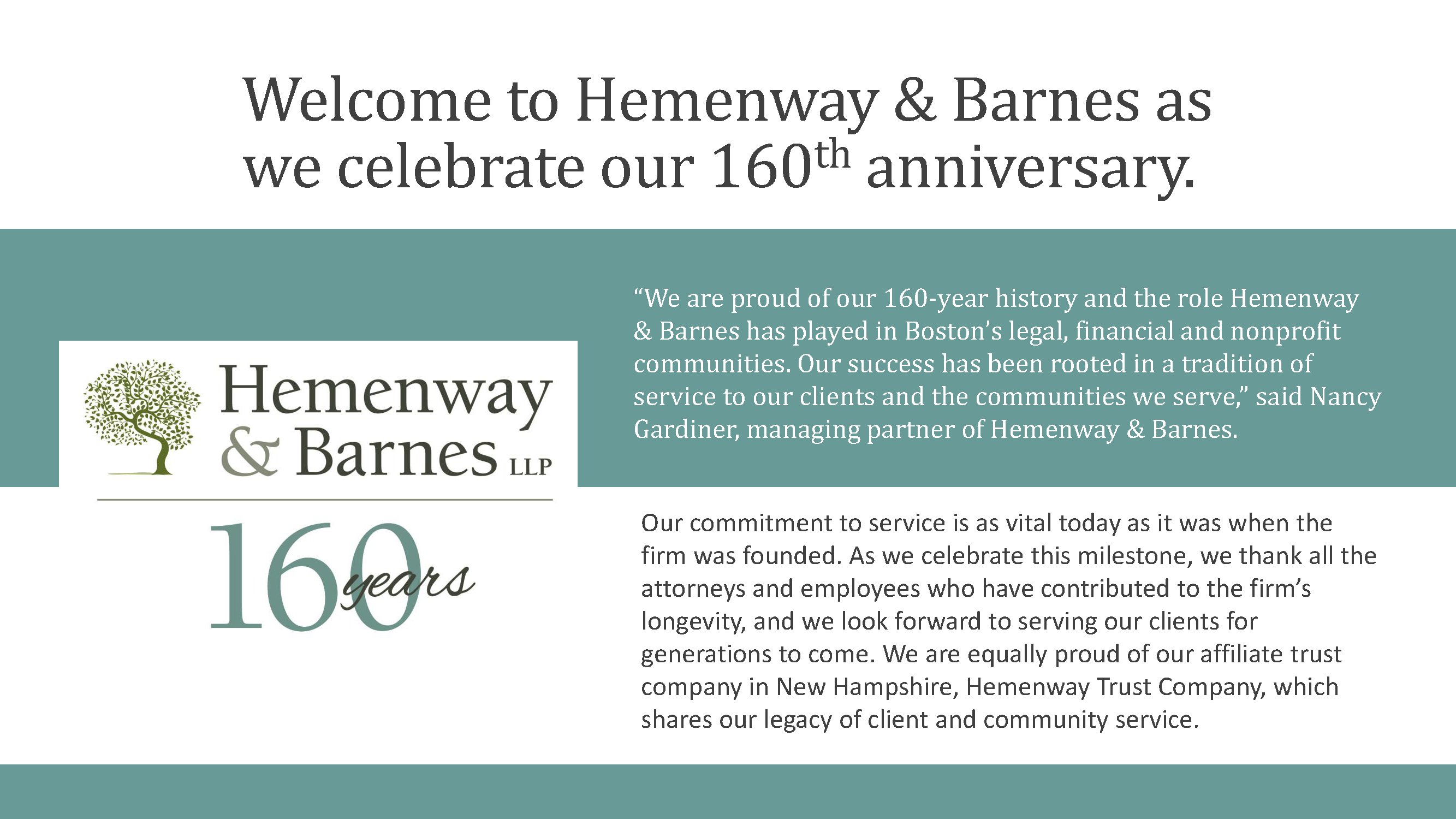 Ours is an old world service model — tailored to the modern world and delivered by a community of seasoned professionals.
Our firm traces its origins to 1863. Stillman Boyd Allen, John Davis Long and Thomas Savage established a law office in that year to serve New England's thriving business community and its wealthy families and their institutions. Alfred Hemenway soon joined the three, and the firm of Allen, Long and Hemenway was born.
These young lawyers were the first in a long line of leaders – both in the law and the civic life of Boston and Massachusetts – associated with the firm. Long, for example, would later serve as Governor of Massachusetts, a member of the United States Congress and Secretary of the Navy under President McKinley. Hemenway became the architect of the Massachusetts land registration system.
By the time Charles B. Barnes joined the firm in 1893, our course was set. More than a century later, Hemenway & Barnes has never wavered from the timeless values of skill, integrity, trust, hard work and vision. Ours is still – and will always remain – a trusted Boston law firm dedicated to a single mission: The management and protection of the financial, personal, business and charitable interests of our clients.
We're proud of the firm that we and our clients have built. We're proud to be part of a greater community and see public service as an essential element of what we can and must do as members of that community. We see ourselves as stewards of a firm begun 160 years ago, a firm that has endured and one that we aim to see go on, serving our clients and the community well beyond our time at the helm.
Learn More About Hemenway & Barnes
I don't know who else I can talk to about this.
A Message from Our Managing Partner
Clients consult us regarding a wide range of issues. We welcome the responsibility and the level of trust their confidence reflects. We are often the "first call" when an issue arises and we take steps from there to work with clients and their families towards resolution.
How can we help you?
We invite you to explore our website and contact us directly to discuss your legal and fiduciary needs.
Contact Us