Stephen Kidder Named "Go To Taxation Lawyer" by Massachusetts Lawyers Weekly
July 27, 2022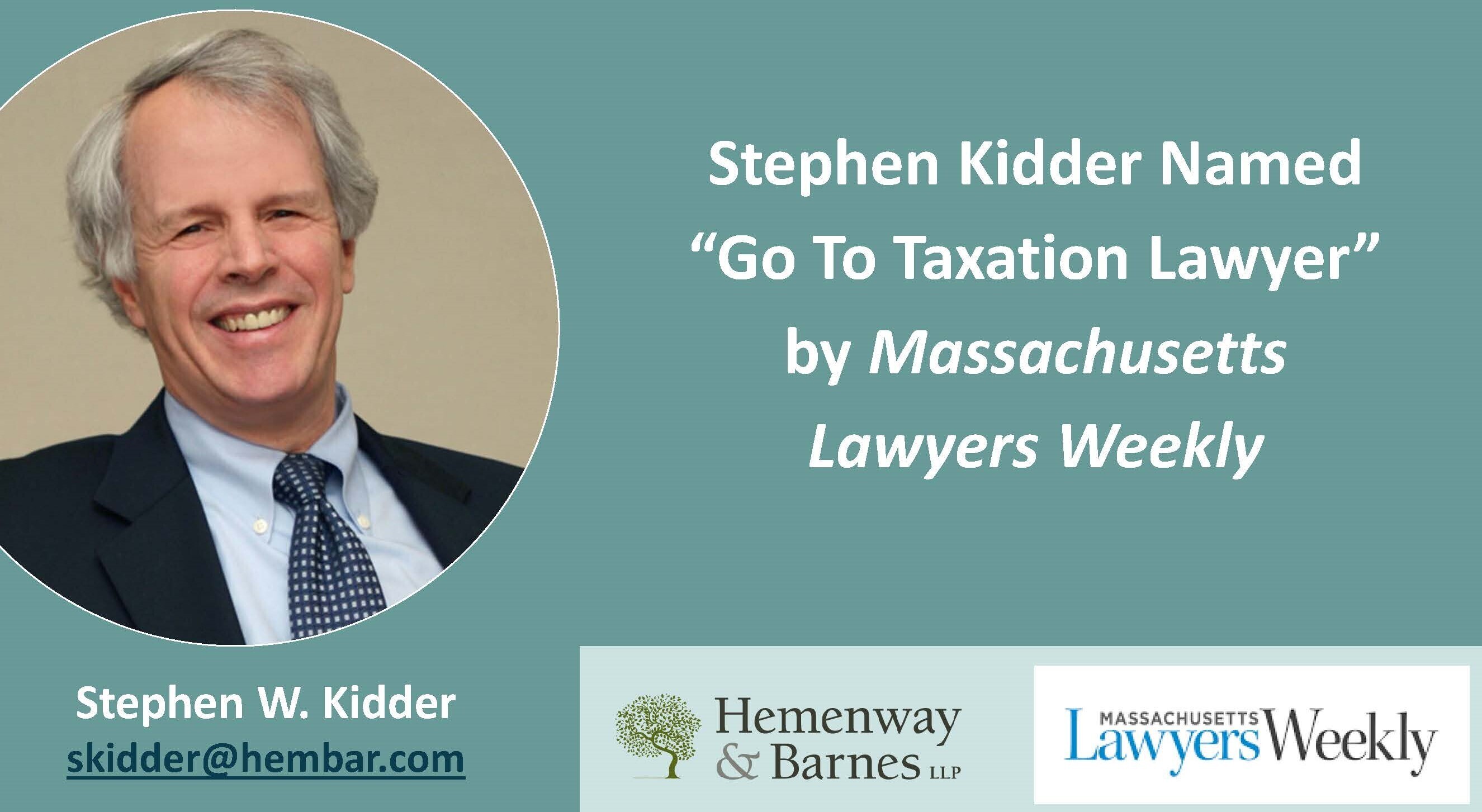 Massachusetts Lawyers Weekly has named Hemenway & Barnes partner Stephen W. Kidder a "Go To Lawyer" in Taxation. The award showcases leaders in the Massachusetts legal community who are recognized as experts in their field and have demonstrated a record of success. The publication noted,
"Boston attorney Stephen W. Kidder brings his clients at Hemenway & Barnes decades of experience in taxation and professional fiduciary services in a variety of capacities."
Mr. Kidder represents the five major professional sports players associations nationally on both state and local tax issues. He has successfully challenged the constitutionality of methods used by states and cities to tax professional athletes.
As a fiduciary, trustee and counsel, Mr. Kidder advises multi-generational family groups on sophisticated estate and tax planning, wealth management and charitable giving. Mr. Kidder also advises nonprofits on sensitive and high-profile governance and compliance issues, including controversial donors, compensation and community relations.
Additionally, Mr. Kidder has served on the board of trustees at numerous nonprofits, including the Isabella Stewart Gardner Museum where he served as President of the Board for eight years, the Boston Symphony Orchestra, Boston Children's Hospital Trust and the Museum of Science.
Prior to joining Hemenway & Barnes LLP in 1991, Mr. Kidder served as Commissioner of Revenue (1987 to 1991) and as General Counsel to the Secretary for Administration and Finance for the Commonwealth of Massachusetts.
Related Services
State & Local Taxation Disputes
Corporations, nonprofits and individuals with complex state and local tax matters often turn to our attorneys for help resolving their disputes.
Wealth Management
We help individuals and families enhance and protect their wealth by building enduring relationships rooted in high-quality, practical, and distinctly personal service.
Estate & Tax Planning
Our comprehensive approach is flexible, so it's tailored to each client's unique financial situation, family, goals, values, and more.