Nonprofit 411: Can Our Nonprofit Organization's Board Vote by Email?
November 15, 2022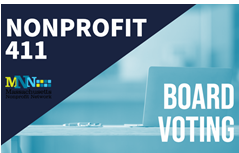 Read Eleanor Evan's Nonprofit 411 article on the Massachusetts Nonprofit Network.
If your organization is a nonprofit corporation incorporated in Massachusetts, voting by email is not permitted unless the vote meets the requirements of a unanimous written consent. The board of directors may take an action without a meeting if ALL the board members (also called directors) consent to the action in writing and the written consents are filed with the records of the board meeting. This consent is known as a unanimous written consent. It is permitted unless your organization's articles of organization or bylaws specifically prohibit it.
It is possible to circulate a vote on an action via email to all directors for them to consent to it in writing. However, for the vote to be valid, ALL the directors must return the consent AND vote in favor of the action. The action becomes effective on the date the last consent is returned. If any director fails to respond, votes against the action or abstains, the proposed action will not become effective.
Continue reading to learn more about:
If an action circulated for an email vote of the board does not receive unanimous written consent
Proxy voting by directors
If your nonprofit is a trust rather than a corporation
If your nonprofit corporation's board of directors has permitted proxy voting by directors or taken votes by email that were not unanimously approved
Eleanor A. Evans
Eleanor Evans has over 20 years' experience representing nonprofit and for-profit organizations in a diverse range of legal, governance and compliance matters.