MNN Public Policy Form on MassHealth Renewals and ConnectorCare Expansion with Audrey Gasteier and Mike Levine
November 15, 2023
November 15, 2023
1:00 PM EST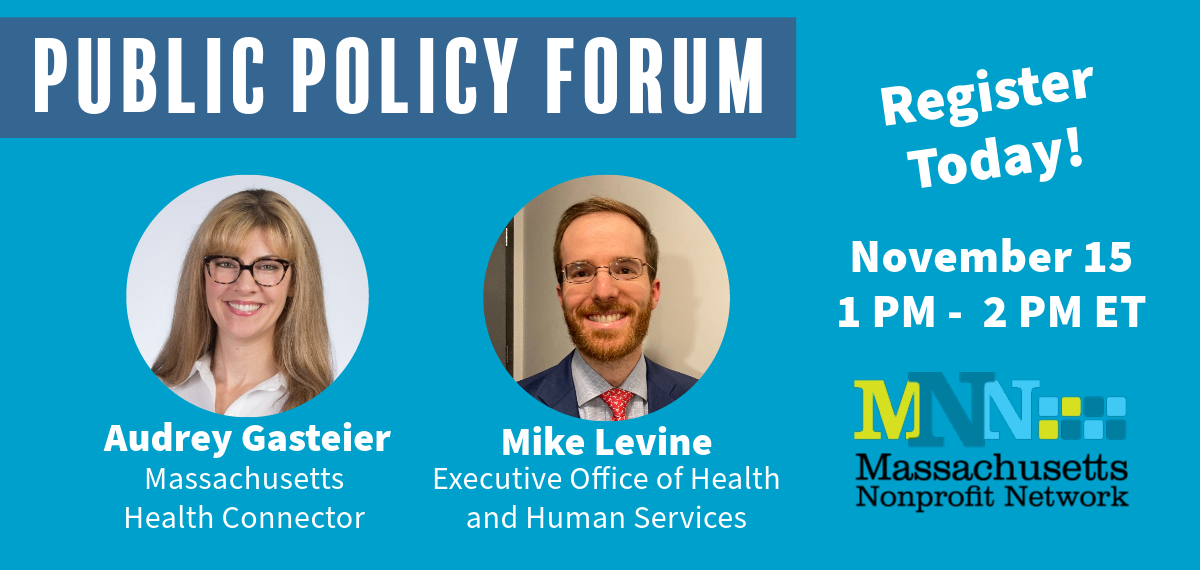 Hemenway & Barnes is pleased to partner with the Massachusetts Nonprofit Network to present the 2023 Public Policy Forum Series.
Join us for MNN's virtual Public Policy Forum with Audrey Gasteier of the Massachusetts Health Connector and Mike Levine from the Executive Office of Health and Human Services to discuss MassHealth renewals and ConnectorCare expansion.
About the speakers:
Audrey Morse Gasteier serves as the Executive Director of the Massachusetts Health Connector, the state's official health insurance marketplace, where she has worked since 2012. Prior to her appointment as Executive Director in March 2023, she served as Deputy Executive Director and Chief Policy and Strategy leading strategy and operations related to Health Connector's role as the state's Affordable Care Act health insurance marketplace, and oversaw program and health insurance product design, policy research, government affairs, and outreach and communication efforts aimed at engagement with members and the public. Audrey is also an instructor at the Harvard T.H. Chan School of Public Health. Prior to joining Health Connector in 2012, she served as Director of Health Systems Policy at the Massachusetts Division of Health Care Finance and Policy, where she led health coverage research initiatives and directed implementation of employer-related elements of state health reform. She also served as a Policy Analyst at the Association of Community Human Services Agencies in Los Angeles, California. Audrey holds a MS in Health Policy and Management from the Harvard T.H. Chan School of Public Health and a BA from Mount Holyoke College.
Mike Levine joined MassHealth in 2016 and has been Assistant Secretary for MassHealth since January 2023. He previously held the roles of Deputy Medicaid Director and the agency's Chief Financial Strategy Officer. Levine has overseen MassHealth's finance, strategy, data and analytics, and program integrity functions, in addition to leading key programmatic efforts around member eligibility and children's health. A graduate of Pomona College, Levine has also worked in federal health policy at the Congressional Budget Office and as a management consultant for non-profit and foundations.
Register here: Public Policy Forum – Audrey Gasteier and Mike Levine
John Stephan will be attending on behalf of Hemenway & Barnes
John M. Stephan
John M. Stephan is counsel and co-chair of the Government & Election Law Group at Hemenway & Barnes. John is a highly accomplished attorney with extensive state government experience in providing effective legal counsel to elected and appointed officials and litigating complex issues on behalf of state officers and agencies in state and federal courts.
News & Resources
Event
Eleanor Evans to Chair MCLE Seminar "Advising on Operational & Legal Landmines Small Nonprofits Frequently Encounter"
Article
New Proposed Donor-Advised Fund Regulations May Broaden DAF Treatment, Chill Donor Involvement, and Threaten Tax Deductions
Firm News
Hemenway & Barnes Named among the "Best Law Firms" of 2024 by Best Lawyers