Johanna Schneider Elected to the Partnership at Hemenway & Barnes
January 01, 2022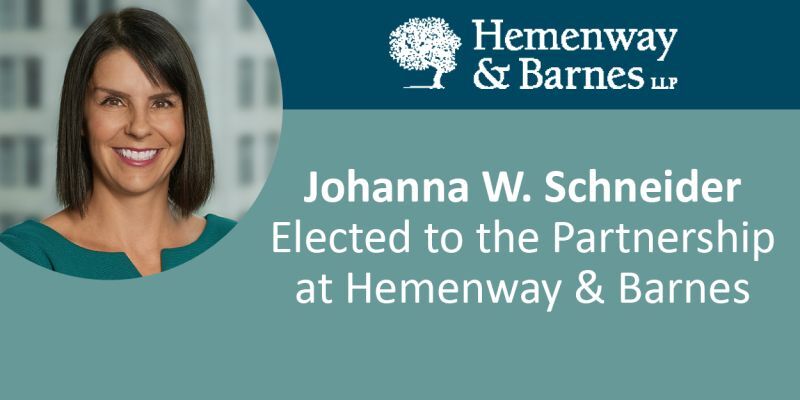 BOSTON--Hemenway & Barnes, one of Boston's leading legal and fiduciary firms, is pleased to announce that counsel Johanna W. Schneider has been elected to the partnership.

"Johanna is an exceptionally talented lawyer. Her collaborative approach and broad-based real estate background have contributed to the growth of the firm's real estate practice," said Nancy Gardiner, managing partner. "We look forward to her continued success as a partner."
Johanna has more than 20 years of experience advising public and private clients on real estate development projects and real estate litigation. Working on complex real estate development projects, Johanna guides owners, developers and other entities through local, state and federal permitting processes. Johanna has also successfully represented clients in all stages of land use and zoning litigation, including mediations and appeals. Prior to practicing law, Johanna was a consultant to the U.S. Environmental Protection Agency (EPA).
Johanna is active in industry associations and her community. She is Co-Chair of the Boston Bar Association Land Use & Development Committee and Co-Chair of The Real Estate Bar Association for Massachusetts (REBA) Litigation Section. Johanna also serves on her town's Zoning Board of Appeals. In 2021, she was elected to The Abstract Club and has been named to the Massachusetts Super Lawyers list since 2014.
Johanna received her JD from the University of Virginia and BA from Wesleyan University. She can be reached at [email protected] or 617-557-9723.
About Hemenway & Barnes
Based in Boston, Hemenway & Barnes LLP has served as trusted counsel to the region's high net worth families, businesses, and nonprofit organizations for over 150 years. The firm provides clients with a unique combination of legal and financial expertise, with a focus on providing each client with services that are specifically tailored and results-oriented. In addition to real estate, the firm's areas of expertise include estate planning, litigation, corporate work, and representation of nonprofits. For more information, visit www.hembar.com.