Hemenway & Barnes Recognized as a Leading Firm for Private Wealth Law: Brad Bedingfield and Joseph Bierwirth Featured as Notable Practitioners
July 26, 2023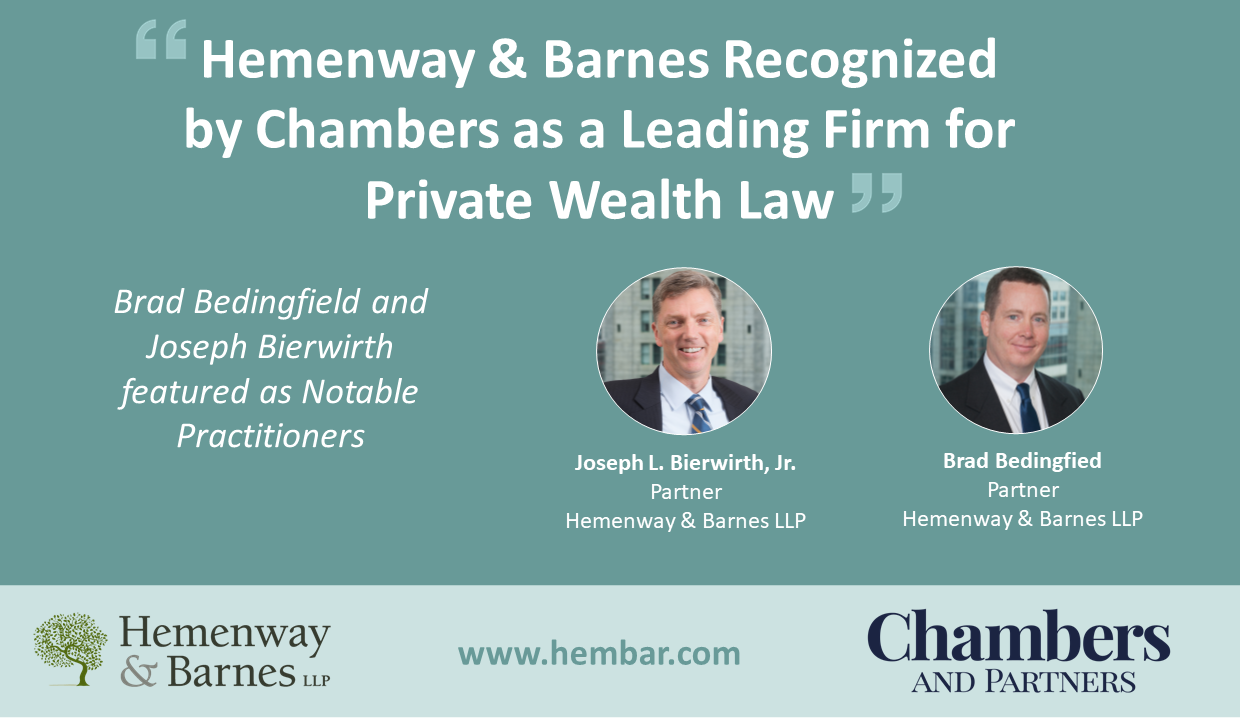 Hemenway & Barnes has been recognized by Chambers and Partners, as a leading law firm in Chamber's 2023 High Net Worth (HNW) Guide. The Guide provides in-depth editorial about the leading lawyers and law firms for wealthy individuals and families. This is the sixth year Hemenway & Barnes has been included in the Guide. Brad Bedingfield and Joseph Bierwirth were also featured as Notable Practitioners.


Editorial from Chambers
Hemenway & Barnes is a well-established firm in the Boston market. The team is recognized for its contentious and non-contentious practice.
– Private Wealth Law – Massachusetts
"Hemenway has a very strong trusts and estates focus and has a good reputation."
"It is a solid group of really good lawyers, good trusts and estates practice."


Notable Practitioners
Brad Bedingfield has considerable experience in philanthropic planning for high net worth individuals. "Brad is very active in the community of charitable giving. Someday he will be the best in the country, outstanding by every standard."
– Private Wealth Law – Massachusetts
Joseph Bierwirth, chair of the firm's Litigation Group, is recognized as a leading lawyer in the area of private wealth disputes. "Joseph is a good experienced lawyer who is sophisticated and at the top of the market."
– Private Wealth Disputes - Massachusetts


Read the full editorial in Chambers 2023 High Net Worth Guide.
Brad Bedingfield
Brad assists private foundations and public charities with navigating complex tax regulations and procedures, including receipt and disposition of complex charitable gifts and participation in innovative forms of impactful philanthropy.