Hemenway & Barnes Recognized as a Leading Firm for Private Wealth Law
August 03, 2021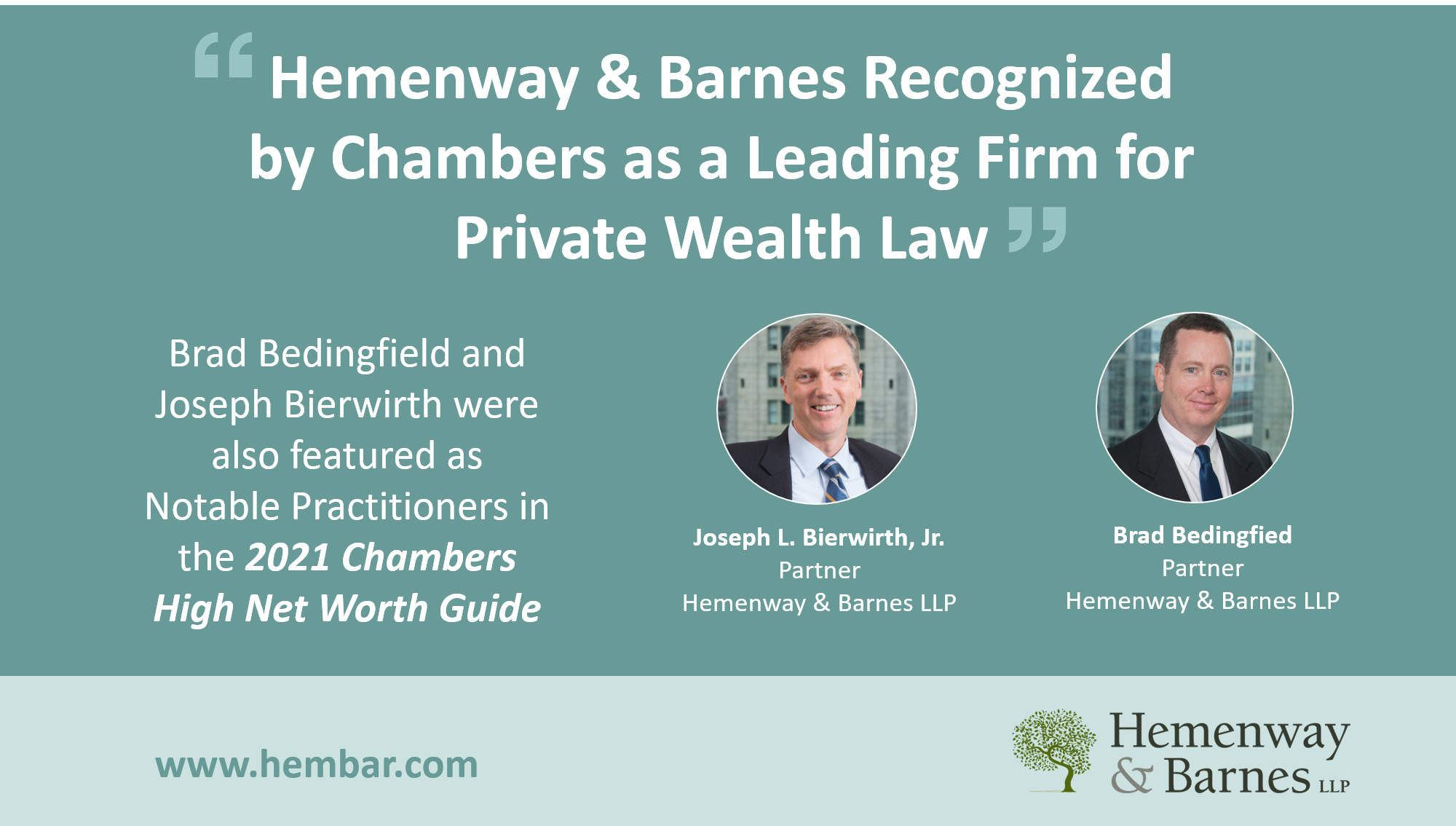 Hemenway & Barnes has been recognized by Chambers and Partners as a leading law firm in Chamber's 2021 High Net Worth (HNW) Guide. In the Guide, Chambers noted the firm's long-standing reputation in the local market, with one interviewee observing, "They do both high-end planning and probate litigation. They are very good lawyers." Another source remarked, "I have always really liked and admired their practice. I think they are a good shop, I have always held them in exceedingly high regard. They just do things right."
Brad Bedingfield and Joseph Bierwirth were also featured as Notable Practitioners. The Guide reported:
Brad Bedingfield has considerable experience in philanthropic planning for high net worth individuals. One commentator states: "He is a really strong lawyer, particularly for philanthropic planning. I am always happy to go to him with charitable projects that we don't have the expertise to deal with." Another commentator notes: "Brad has an academic mind that is just great. He does remarkable work in charitable planning and trusts and estates. I think he is just a very smart guy, very personable and very active in educating the people around him."
Joseph Bierwirth is a private client lawyer with a particular focus on private wealth disputes. One source observes: "He really knows his stuff, he has a lot of experience and is a very effective litigator." "He's an excellent lawyer for probate litigation," states an interviewee, adding: "He is a pleasure to work against in court. He is a really good trial lawyer and knows this area extremely well. He is certainly a top player in the Boston market. He is certainly someone I am happy to recommend."
The Guide provides in-depth editorial about the leading lawyers and law firms for wealthy individuals and families. Read the full editorial in Chambers 2021 High Net Worth.
Law Firm Ranking
Private Wealth Law – Massachusetts
Lawyer Ranking
Brad Bedingfield – Private Wealth Law - Massachusetts
Joseph Bierwirth – Private Wealth Disputes - Massachusetts
News & Resources
Event
Harvard Business School Association of Boston "2023 Nonprofit Board Summit"
Event
Gioia Perugini to Lead AFP's March 9 Meet the Funders Program
Event
Brad Bedingfield to Co-Present on "Adventures in Winding Up Charitable Entities – Don't Fool Around with the Shutting It Down" at the 2023 ACTEC Annual Meeting