Emma Wright and Shannon Nelson Join the Private Client Group at Hemenway & Barnes
November 16, 2021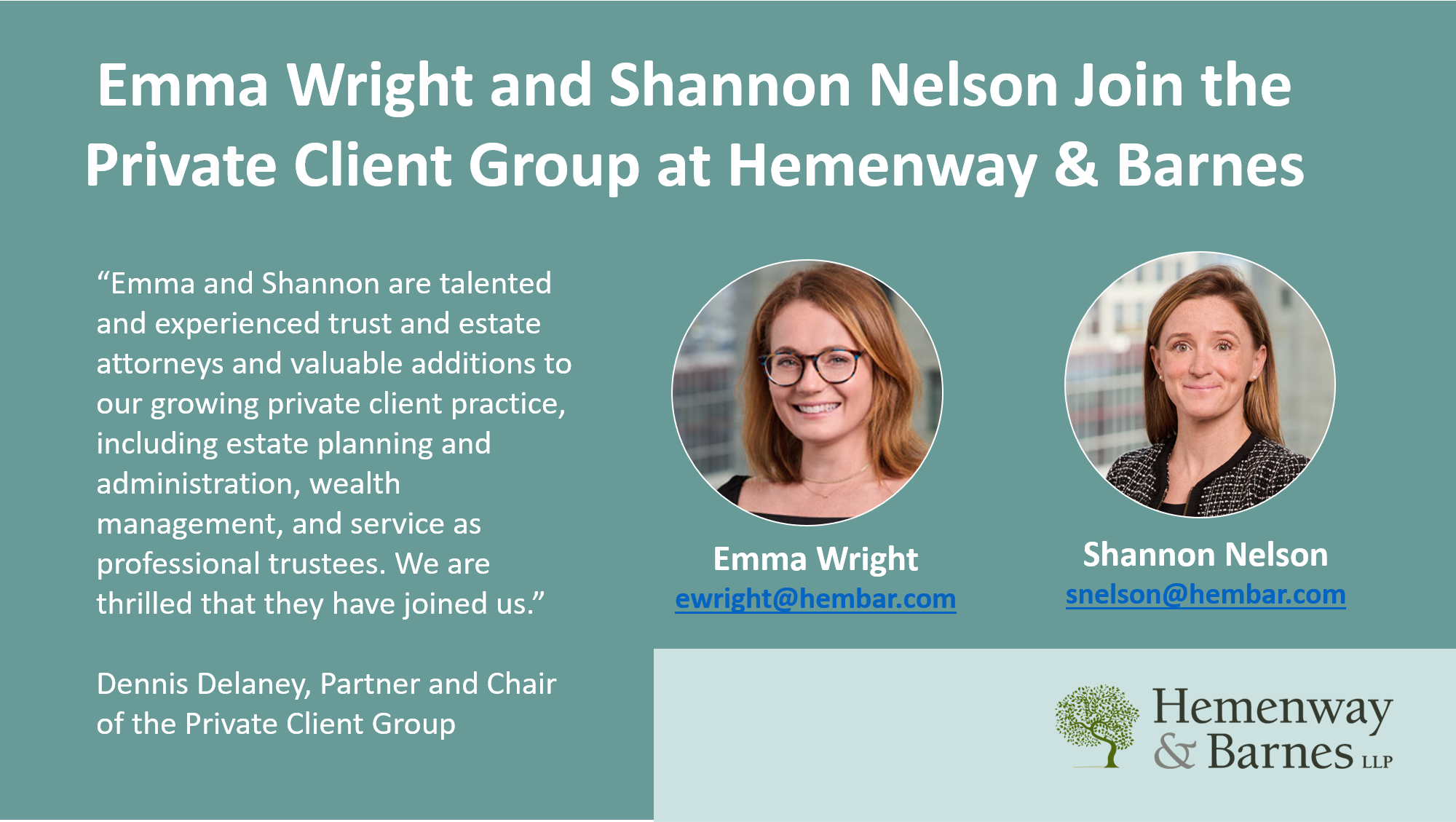 Hemenway & Barnes is pleased to announce that Emma Wright and Shannon Nelson have joined the firm as associates in the Private Client Group. They will be assisting clients with complex estate and tax planning strategies. Prior to joining Hemenway & Barnes, both Emma and Shannon practiced at a large international law firm.

"Emma and Shannon are talented and experienced trust and estate attorneys and valuable additions to our growing private client practice, including estate planning and administration, wealth management, and service as professional trustees. We are thrilled that they have joined us," said Dennis Delaney, Partner and Chair of the Private Client Group.
Emma Wright advises clients on sophisticated trust and estate planning strategies. She represents domestic and international high net-worth individuals and families on estate planning, charitable giving and tax planning. Emma is also experienced at managing complex estate and trust administration, including probate proceedings. She is a member of the Boston Bar Association Public Interest Leadership Program (Class of 2021) and is the chair of the Executive Council for Youth Villages Massachusetts New Hampshire.
Emma is a graduate of Providence College and Boston University School of Law. She can be reached at 617-557-9747 or [email protected].
Shannon M. Nelson is experienced at drafting complex estate planning documents including pour over wills, revocable trusts, insurance trusts and grantor retained annuity trusts, among others. She also provides counsel on tax planning strategies and facilitates sophisticated gift transfers. Before attending law school Shannon spent four years working at a national private investment banking company.
Shannon is a graduate of the College of the Holy Cross and Boston College Law School. She can be reached at 617-557-9741 or [email protected].
News & Resources
Event
Paul Cathcart to Present on Post-Mortem Planning at the 2023 Estate Planning: MCLE BasicsPlus!®
Article
Corporate Transparency Act: Deadlines and Reporting Requirements
Firm News
Hemenway & Barnes Named among the "Best Law Firms" of 2024 by Best Lawyers